Parkour Block 3D is a skill game in which you need to move and jump on brick platforms to reach the portal. Let's use your skills to overcome all levels.
Some unique features of Parkour Block 3D
Are you interesting in parkour sport? However, it is an extreme sport that can cause hurt in real life. Don't worry, now you will have a chance to make some impossible jumps in Minecraft World. Come and explore some interesting things about parkour Block 3D now! This game is developed by Poly Games and it is released in July 2021. The game will turn you into a parkour player who is very brave. You will jump on varied platforms instead of buildings. One special thing is you will play in first person view, so you will have a realistic experience.
Besides, you will have a chance to try various maps which bring wonderful moments for you. Parkour Block 3D is increasingly popular over the world. Now, the game is available on our web and you can play the game for free. Let's clear your mind with mind-blowing jumps in the Minecraft world. The good news for you is that Parkour Block 3D is unblocked at school or work. So you can play the game whenever you want. This is great, isn't it?
The objective of this game
In this game, your mission is to reach a purple portal at the end of the route. Of course, the way to the portal isn't simple. There is no flat road. Therefore, you have to overcome the platforms which are floating on an infinite sea of lava. Running and jumping are the main activities of your life in Parkour Block 3D.
Levels and difficulties of Parkour Block 3D
What about the levels and difficulty of this game? The game offers 35 levels for you to challenge your skills. The higher level you are, the more challenges you face. Beware of the fast-moving platforms and timing is critical to advance the level. Specially, you must get over a series of brick platforms with different distances and sizes. Moreover, the platforms are also very slippery and your character can slide from them. That is the reason why you should estimate the distance and size of platforms to have correct jumps. If you make a small mistake, you immediately fall into the lava and replay that level. Don't too worry, you can play the levels as many times as you need. With each replay, you can know some new useful things and change your strategy accordingly to the level's difficulty. Although the game provides a realistic view (first person view), you will get into some trouble with it. It is challenging to definite your position, so you can easily fall into the lava.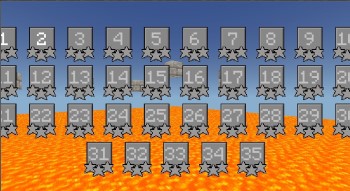 How to play Parkour Block 3D
Are you familiar with the gameplay? If no, let's explore it now. Moreover, there are some tips for you to pass all levels. Can you apply tips in this game?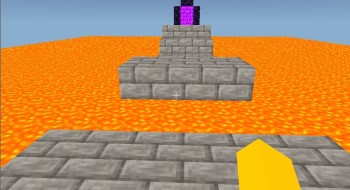 Solve the obstacles
Parkour Block 3D is designed with many obstacles and difficulties. To win the game, you need to use your control skills and estimate skills to make suitable jumps. You will jump on the varying blocks. The brown blocks may be big or small or they can be movable or still. Keep your mind that you should jump in the middle of the blocks. Failing many times helps you have more experiments to tackle the challenge of that level. Before jumping, look at all the blocks you need to overcome and where the purple portal is.
Tips for Parkour Block 3D
Know the length of the jump you can take to prepare for each step

Look down while jumping so you can see the landing point more easily

Remember the difficult passages where you failed to have the right strategy the next time you play

Adjust your speed and play calmly to avoid mistakes that will make you fail
FAQ
How many levels are in Parkour Block 3D?
There are 35 unique levels to challenge your skills.
Do I need to download Parkour Block 3D to my device?
No, the game with html5 technology isn't necessary to download.
Is Parkour Block 3D unblocked at school?
Yes, you can play the game at school with your friend in your break time.
How to control
Press WASD / arrow keys to navigate the character

Press the space bar to jump

Left shift to run

Double Esc for back to menu

Swipe the mouse to rotate the camera